I know I should be specific, Lord, but I don't know and I'm scared to know what I want. You're the one who knows me well. All I can do is offer my heart and trust what You have prepared for me. Help me be ready.
There was a girl
Who lived in a burrow
Her name was Tomorrow
She was sick in the marrow
Her parents were hopeful
Though she was doubtful
Of living in copious
While she looked nauseous
Her hair was all frilly
But she wasn't as giddy
For they all became needy
They were down to last penny
She loved to say hello
So mellow
Not bellow
To every good fellow
While she made a rondeau
Along came Alberto
A fellow in yellow
Who under the heat of summer
Lowered his bowler
Towards her
Alberto was healthy
Tomorrow was sickly
She wasn't convincing
She took him no fancy
He pursued her
No matter
He made known
That she mattered
But tomorrow is scary
What lies for her is dreary
She was just weary
And their future is bleary
One day they were walking
While she did more thinking
She was mum as always
And Alberto was restless
"Tomorrow, I need you
Let me take care of you"
But she needed him more than he needs her
She took his hand and to him he uttered.
"I am scared Alberto
This would end in sorrow
Today's lie of bliss is a gamble
Your tomorrow would suffer"
"The only tomorrow I see
Is Tomorrow with me
So no matter the disease
I still want you so badly"
He took her hand and felt her skin
Looked to her eyes and slowly
Inches apart, face to face,
They kissed their troubles away
They made the most of each other
Nothing else have mattered
They sang and laughed
And ignored hereafter
But Tomorrow knew better
She called for Alberto
"The beach is nice, it's what I've learned
Take me to feel the breeze I've heard?"
But the wind was cold and unforgiving
She sat on his back draped and shivering
Alberto felt her warmth on his ears
And that was enough to abate his fears
"Shell!" she's never seen one before
He took one for her to listen to the ocean
She smiled so warmly
Even though she was freezing
She touched his face and gently,
"Can you please get me more?"
Many years later
Alberto still remembers
That was the last of what
Tomorrow had uttered
He found her eyes closed
While listening to the ocean
With a smile on her once pink lips
And a heart shaped figure
On the moist sand traced by her finger
Thank GOD!!! YAY!
Earlier this morning, my dear friend, Mamins, texted me and she was excited to let me know that they (the University council) have approved (or approved the recommendation—I forgot, haha!) my graduation for my degree.
In all honesty, I just thank God for it. That degree was way too overdue. I should have finished a year and a half ago but due to some circumstances, I have been extended for a year and a half. Thankfully, it wasn't more than that.
That experience has brought me a lot of anxiety and depression. But I am so thankful because I gained far more than what I lost (apart from my weight. Haha!). That experience has also brought me a lot of learning (both academic and in real life, which I wouldn't exchange for anything), great friends, skills, shoes, and a whole lot more.
God did it. He made a miracle out of me. I wouldn't have lasted one minute if it wasn't for Him. I also have to thank Him for guiding me. I don't deserve such love after the things I do but He's just that great. What's even amazing is that He is there and I can count on Him. With my mum sick, I don't think I could have handled everything without Him.
This degree is another gift from God. And I'll be forever grateful.
May God's name be glorified.
GFP Ice Cream aka Glow-in-the-dark Ice Cream (SRSLY?)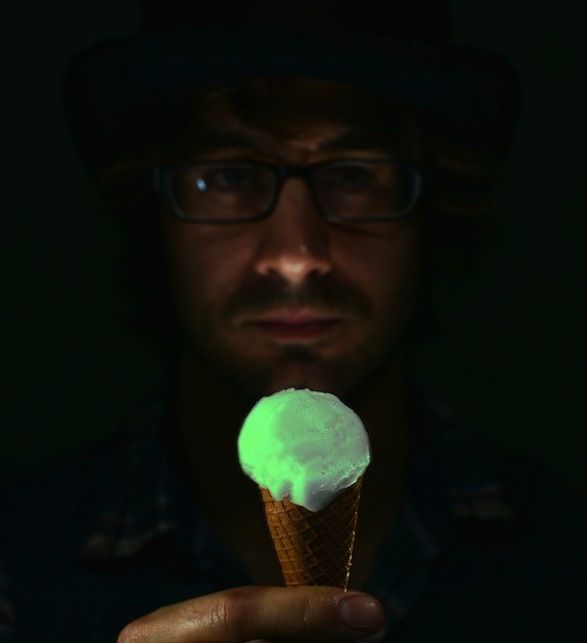 Wouls you eat this GFP ice cream?
Trivia: The ingredient used for this "glow-in-the-dark" ice cream came from a luminescent protein from jellyfish called Green Flourescent Protein (GFP). According from an article at Neatorama, this ice cream glows when licked just like an agitated jellyfish. Amazing!
GFP is among the stuff we always talk about in several of my Molecular Biology classes. Hearing about it in this context can be both so surreal and amazing. Haha!