Thank GOD!!! YAY!
Earlier this morning, my dear friend, Mamins, texted me and she was excited to let me know that they (the University council) have approved (or approved the recommendation—I forgot, haha!) my graduation for my degree.
In all honesty, I just thank God for it. That degree was way too overdue. I should have finished a year and a half ago but due to some circumstances, I have been extended for a year and a half. Thankfully, it wasn't more than that.
That experience has brought me a lot of anxiety and depression. But I am so thankful because I gained far more than what I lost (apart from my weight. Haha!). That experience has also brought me a lot of learning (both academic and in real life, which I wouldn't exchange for anything), great friends, skills, shoes, and a whole lot more.
God did it. He made a miracle out of me. I wouldn't have lasted one minute if it wasn't for Him. I also have to thank Him for guiding me. I don't deserve such love after the things I do but He's just that great. What's even amazing is that He is there and I can count on Him. With my mum sick, I don't think I could have handled everything without Him.
This degree is another gift from God. And I'll be forever grateful.
May God's name be glorified.
Ryan Andrews :: One Last Snowfall
A recreation of the song Nagori Yuki, in comic form, by Ryan Andrews
I watch the snow melt as it falls to the ground.
One last snowfall…
Spring has come.
And now you have gone.
GFP Ice Cream aka Glow-in-the-dark Ice Cream (SRSLY?)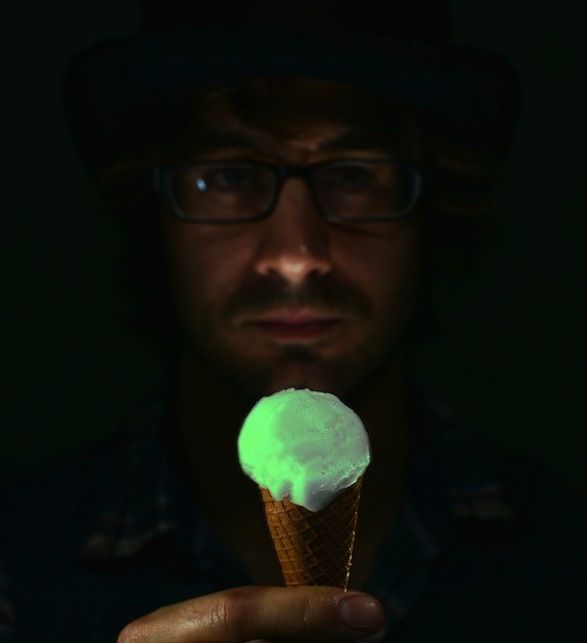 Wouls you eat this GFP ice cream?
Trivia: The ingredient used for this "glow-in-the-dark" ice cream came from a luminescent protein from jellyfish called Green Flourescent Protein (GFP). According from an article at Neatorama, this ice cream glows when licked just like an agitated jellyfish. Amazing!
GFP is among the stuff we always talk about in several of my Molecular Biology classes. Hearing about it in this context can be both so surreal and amazing. Haha!
Taken from Mayette Cinco's Facebook status 10 November 2013 19:12 (Translation in parentheses were inserted)
A/N: I read this on Facebook and I can sort of feel what this person feels and I just had to post this here. I also just inserted the my own translation in between her status, so yeah. If they can help, why can't we?

"I want to look into his eyes. Into Lily's eyes so I can tell her how sorry I am that I haven't lived my life the way she would have wanted. I lived in the past, with her illusion, not seeing what I already have. I want to tell her how sorry I am that I loved her so much that it destroyed me.
"I want to apologize because after all this time, it was really you, the one that heals me continuously, not ceasing and hesitating. You are the one I hold dear in my heart.
"It can only be through that that I can love you more as I do now."
(A/N: This was for a Harry Potter fanfiction, entitled Prefect Rounds, I intended to finish but never got the chance to. It was supposed to be a SSOC shipping set from the Marauder's Era to post-war with Snape surviving. I sort of sucked at telling a story though I got the picture perfectly in my mind.)
I must have said
I must be brief
But I don't think
It will complete
The words to fill
The empty hole
My palms conceal
I take the step
And match your pace
That soon I found
I am face to face
You then looked up
With curious eyes
I tried a sound
When you smiled
I thought I was articulate
But I cannot enunciate
It seemed you knew
How difficult
When I looked down
On to my shoes
You took my chin
Looked through my eyes
And kissed my lips
To say goodnight
A/N: I'm thinking the title should be Seized… Hmmmm
Close the gap between our lips
And mend my broken dreams
Talk to me
Whisper
While we kiss
Hold my hand
Sing to me
Play me
All the melody
You keep inside
Tucked to your sleeve
While lying on your shoulder
Half asleep.